Pope Francis, us, and our common home in the Pacific.
The Pacific Calling Partnership conversation "Pope Francis, us, and our common home in the Pacific" was held in Del Monte School Hall on Sunday 11th October.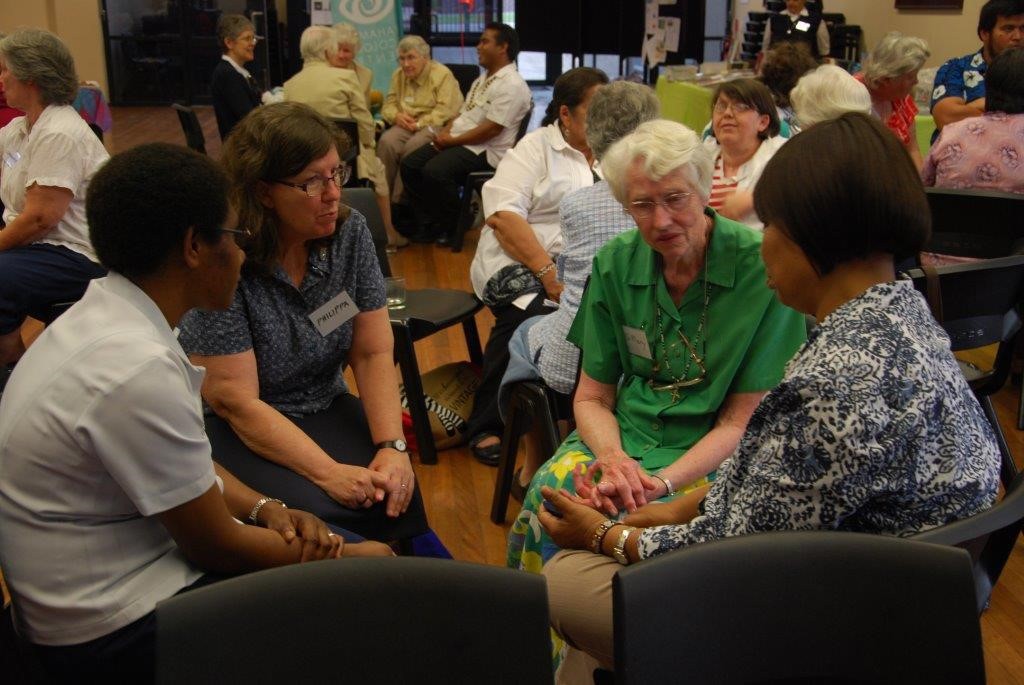 The day began with Acknowledgement of Country by Ken Ralph OP (Dominican Laity).
The opening Prayer was taken from Laudato Si. (Link to prayer- Sr Jill Shirvington)
The conversation was facilitated by Jan Barnett SOSJ. It was organised by Pacific-Calling Partnership (Edmund Rice Centre) and religious congregations who have sisters and brothers in Oceania. *
Perspectives on the Encyclical were presented by speakers familiar with the issues in the Pacific.
Fr Claude Mostowik MSC pointed out the connection between St Francis of Assisi and our current Pope Francis. The title 'Laudato si' taken from St Francis' hymn. The modern 'Care for our common home' follows St Francis in praising God  and 'repairing God's house' by inviting us to be part of a cultural revolution against the 'throw-away' culture . Sea level rise will affect many countries – over a quarter of the world's population live on seacoasts. Fr Claude linked information, photographs and encyclical quotes.
Sr Joanne Fitzsimmons OSC spoke of St Francis and the Franciscan tradition of praying, of being in harmony with all living creatures and seeing our world as God's creation. She asked us to think of having ' just enough'.
Sr Teresa Tebaia OP spoke about the impact of climate change in the Solomon Islands and the adaptations being made. She explained that most of the 500,000 population of this Melanesian country live in villages, grow their own food and catch fish. The king tides and more intensive cyclones are causing erosion, flash flooding and salt contamination of wells and gardens.  Logging also causes erosion of soil. Teresa showed photos of these effects.
The OLSH congregation presented One Congregation's New Climate Change Direction and Stories from the Pacific Islands. Sr Philippa Murphy FDNSC, Sr Lorraine McCleary FDNSC spoke of their Congregation's commitment at their General Chapter in Rome last year when they listened to some very moving and heartfelt stories from their sisters from Kiribati about how climate change was impacting on the lives of their people. From listening to these stories, decisions were made to accompany the Kiribati sisters, to help develop a deeper understanding of climate change and its anticipated impact, and find ways in which they can advocate for their people about this issue.
The truth is the impact of climate change falls heaviest on the world's poor.
For many of us 'Climate Change' seems far away but for the people of Kiribati it impacts on their day to day life, right here right now.
Sr Kaitakke
Climate change is having a grave impact on the people of Kiribati. Taro is one of our staple foods but there is a problem growing it because of salty water in our gardens and coconut trees cannot grow in this salty land. Fish in the sea have to move to find another place for their shelter. They are all affected by climate change and rising sea levels.'
Sr Maria
'The most terrible experience I have had in my life was when a huge wave bashed the hospital in Betio due to the rising tide. Betio is a small island which is part of Tarawa in the Republic of Kiribati.
Kiribati needs your help. Please help our country from the rising sea level which may cause our land to disappear within 50 years. Please help our women to gain an education to be the voice of the Kiribati people.'
Sr Bina
This experience and many others raised a big question in us. What is happening that our beautiful island is not safe anymore? The climate change has affected our lands and is destroying it. It is time to wake up and educate the young ones especially our young Sisters to be a strong voice for our Kiribati people. To tell other countries that what they are doing to make life easier with fossil fuel use, could result in our country disappearing.'
Maria Tiimon-Chi-Fang, Kiribati friends and the sisters followed with a joyful dance – a reminder of the importance of their culture.
Sr Geraldine Kearney SGS spoke about Human Rights and Climate Change. Climate Change is a justice issue. Pope Francis is asking us to listen to the people's cry and the cry of the earth. Sr Geraldine outlined the efforts of various international meetings to change polices. At the end of November, the United Nations Paris Conference on Climate Change begins. It is hoped this will catalyse a transformation. All nations need to work together for a sustainable future. Concern for nature and justice for the poor go together.
The final presenter was a vibrant young speaker Terese Corkish who is the Youth Engagement Officer with Catholic Earthcare.  She spoke about her work in schools, parishes and advocacy for environmental issues.  Catholic Earthcare is involved in the Australian National Energy Efficiency Network. Emphasis on renewable energy gives hope to young people wondering what their world will be like in 2050.
The conversation continued in groups about action planning and future commitments.
The day finished with a prayer and reflection, prepared by Sr Jan Ruff smsm.
Thanks were given to Santa Sabina College for the use of Del Monte Hall; to the Pauline Media Sisters for bringing books and resources; to Albert Soetanto for the smooth running of the IT and microphones; to all those who helped with hospitality; to Jill Finnane and Committee.
For further information, contact Pacific Calling Partnership, Edmund Rice Centre, www.erc.org.au .
Catholic Earthcare Australia: www.catholicearthcare.org.au
The Global Catholic Climate Movement: http://catholicclimatemovement.global
 *Several Catholic religious congregations that have strong ties with Pacific Islands have been coming together under the banner of the Pacific Calling Partnership to explore ways towards achieving a congregational voice on climate change and Pacific Islands. Congregations that are involved so far include: Christian Brothers, Daughters of Our Lady of the Sacred Heart,  Dominican Sisters, Franciscan Friars, Institute of Sisters of Mercy of Australia and PNG, Marist Fathers, Missionary Sisters of Mary , Missionaries of the Sacred Heart, Presentation Sisters, Salesian Sisters, Sisters of St Joseph of the Sacred Heart, Sisters of the Good Samaritan.