Catholic Earth care's Youth Engagement Officers Terese Corkish is an inspiring young female voice in the
climate movement. I had the opportunity to catch up with Tess to chat about how she is bringing together
the worlds of faith and action on climate change.
Tell us a bit about yourself and your role at Catholic Earthcare?
I'm a 22-year-old student who's been involved in the environmental movement since I was in high school
(almost seven years now). I study Global Studies, Communications (Public Relations) and Environmental
Studies which means that I am hugely passionate about how to communicate climate change and catalyse behavioural and social change for others.
I started working at the environmental agency of the Catholic Church, Catholic Earthcare Australia in
September of last year. I've worked on our Energy Efficiency Network project and in July of this year shifted
to the role of Youth Engagement Officer, which has meant bringing the message of the Papal Encyclical,
Laudato Si' to young Catholics around Australia, particularly in schools and parishes.
What have been the challenges for you in bringing the worlds of faith and climate change together?
Having grown up in a household where my dad is a renewable energy engineer and my mother has a
degree in theology, I've always been aware of the social justice aspects of climate change and for me,
it's always been a no-brainer. For anyone who knows the terminology, I actually picked St Francis of
Assisi, the patron saint of ecology for my confirmation saint way back in year six, so it's always been
somewhat of a passion.
For others, however, it can be a problem, even though successive Popes have put care for creation on the
agenda, it hasn't ever been front and centre for Catholics, it's more been something that's been associated
with being a "greenie". This can provide some obstacles, but Pope Francis (yes, he chose the patron saint
of ecology as his Papal name!) has been so strong on this issue, it's provided an incredible foundation for
us to work from. When faced with opposition, it's always great to be able to quote the Pope.
Earlier in 2015, you attended the Emerging Leaders Multi-Faith Climate Convergence in Rome. Can you describe the experience and how you felt after returning home?
Wow, it's so hard, even now, to get perspective on how incredible it was. When my Facebook newsfeed is full
of people meeting Al Gore and Francois Hollande and other world leaders in Paris, and when people who I
have become close friends with are launching documents supporting climate action from their own faith
traditions,
I am constantly astounded and so humbled to be considered a peer of theirs.
The people I met have become some of my closest friends, even those who live on the other side of the world
(we call each other "Rome-ies). It was amazing to stand in solidarity with young people all around the world
who are making a real difference in their communities and who understand the importance of the work we
are doing. As for coming home, I am definitely a different person to the woman who got on the plane at
Brisbane airport at the end of June. I am more confident, I stand taller and my life has been so deeply enriched.
It was also incredible to see the role of women in organisations that can be so deeply patriarchal,
how they are stepping up in this fight and leading their communities.
With the UN climate negotiations in Paris over, how would you like to see the international community keep the momentum going long after Paris?
We can't forget the fight. Especially we in the developed world who don't see the consequences of our
actions played out in front of us.
We need to make sure everyone remembers. We need to talk. I went to a Dominican school, and the
Dominicans are the Order of the Preachers, so I'm a big fan of conversations and preaching and talking.
We need to have more actions, get involved in more civil disobedience and keep everyone accountable.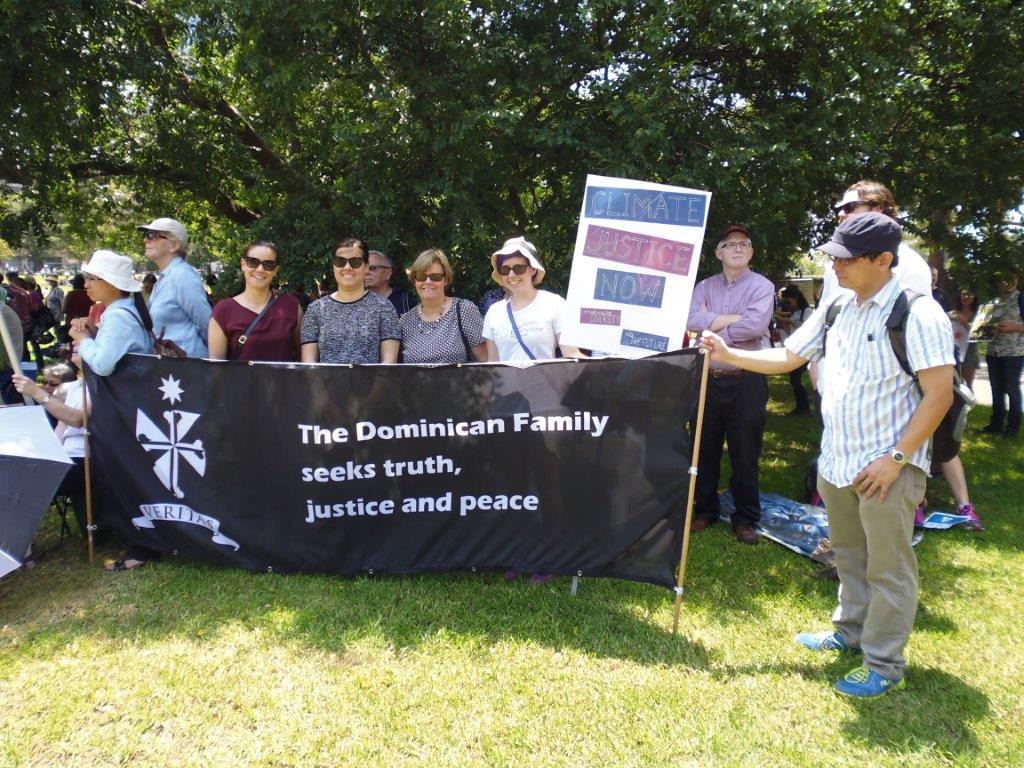 What is one thing would you like to see change in your lifetime in regards to the environment?
It's hard to pick just one thing, but I'd like to see a change in our values as a society. I want to see us value
people, experiences and nature more than profit. I want to see us discuss climate change as an issue of survival rather than one of economics.
Can you name another woman doing something in the climate movement, or anywhere else that inspires you?
Having volunteered with the Australian Youth Climate Coalition for over six years, I've met so many incredible
and inspiring women taking up the fight against climate change. To name a few, Millie Telford of SEED, my
friend Betty Barkha from Fiji, Amanda Mackenzie, Anna Rose, Ellen Sandell and Kirsty Albion from the AYCC,
as well as my boss, Jacqui Remond and colleague Katie McSweeney. See, it's hard to pick just one, the
movement is full of so many amazing women taking charge and leading the way to a safe climate future.
If you could send out a final key message to our community, what would you say?
Women, by using their everyday choices, can and must make a difference. We are enriched with a great sense
of empathy for the plight of others and we must use that as a tool against a world that demands that we compete
and tear each other down.
http://www.1millionwomen.com.au/blog/interview-22-year-old-terese-corkish-bringing-together-worlds-faith-and-climate-change/